Sold
Out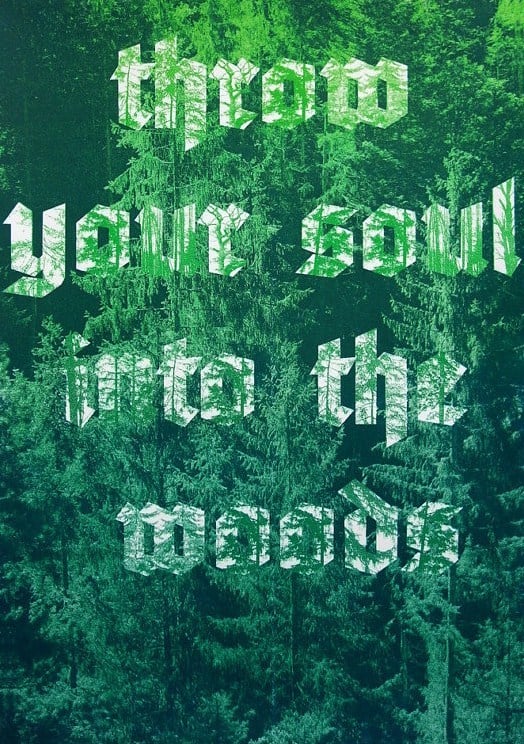 'Throw Your Soul into the Woods' by Alex Heaton
£

45.00
Edition of 10, B2 Silk Screen Print on Snowdon archival Card.
Signed by the artist.
Alex has exhibited widely, both nationally and internationally. Most notable recognition to date has included his solo show, The Secret of the Runes at the Residence Gallery London, which was selected to be in the Pulse Art Fair, Miami in 2011 to much critical acclaim. He has been shortlisted for the Marmite painting prize and has shown in The Future Can Wait, which was conceived as a complement to London's Frieze. He has also participated in a number of other international art fairs including the 07 Projects Art Fair, London. The London Art Fair (2009 and 2011) with Contempory Art Projects, Aqua Art Fair, Miami (2008) with the Lounge Gallery. Alexander's first solo show was The Horn that Matters (2007) at The Empire gallery.
His work was published in Bant Magazine last year - Turkeys premier art monthly publication, The Sunday Times Magazine - article covering his show at the Empire Gallery in Vyner Street, Amelia's Magazine covering his first solo show - The Horn that Matters, and a full page spread in Time Out whilst he was still studying at Saint Martins.
Furthermore, Alexander's paintings are widely collected by both large corporations and personal collectors and are placed most notably in the following collections, Bourne Capital, Wellington Management, The Hollywood Art Collection Miami, Cognetas, The Austrian Alpine Club, Raheel Aslam Dubai, Nigel Gruneberg, and Simon Rumley the film director.
This product is packaged is hand wrapped in tissue paper and posted first class recorded delivery in a secure card tube.
All our products listed for sale on here are also available for purchase postage free, just pop into A-side B-side Gallery. If collecting in person, at the checkout enter: FREEDELIVERY into the discount code box
A-SIDE B-SIDE GALLERY
Hackney Downs Studios
Amhurst Terrace
London E8 2BT